April 20, 2010
Irina Irina
in Frankfurt


---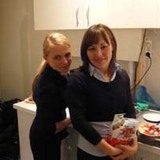 Due to that volcanic eruption, I'm stuck here in Frankfurt still.
I don't seem to be able to fly home for a certain period of time, but then again who does, in this disaster.
Actually, I'd been here to participate in the fair, and met with wonderful ladies, Irina and Irina who had helped us during the fair.
They, coincidentally, have the same name to each other, and are quick-witted Russians, tender to us, and what is more, cute.
We called them "Irina Irina" (Irina2) showing our affection.

Irina Irina, we really appreciate your help. Thanks to your kindly cooperation, we could go all the way successfully. Thank you again, we couldn't have made it without you, we mean it.


ps
I've changed my itinerary. I will fly to Dubai to visit the site, then, fly home, hopefully.

Cya al someday, Tschus !!!



---
アイスランドの火山噴火の影響で、未だフランクフルトで足止めです
フェア参加で来たのですが、今回の2人のコンパニオンは、現地ドイツの担当者も認める今までで最高のコンパニオンでした

何より、気が利く、回転が速い、エゴより我慢、冗談を解する、
なんともかわいい

所謂、ほっとする女性でした
洋の東西を問わず、こんな女性が人をひきつけるんだと実感しました

ドイツからの脱出ですが、現チケットでは4月26日以降でないと代替便がありませんでした
仕方なくキャンセルし、ドバイに向かうことにしました
設計本部及び現場を訪問、加えて完工部分確認と新規物件打合を実施し帰国の予定です
今回は肉体的にきつい内容でしたが、彼女達のおかげでそんな小事は気になりませんでした
ありがとうという日本語が綺麗に響いて2人に届いた気がしました



---

+Vote for Me. Thank You in Advance !
---