December 08, 2013
Happy Xmas (War Is Over)
8th / December

---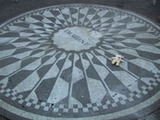 It was early evening when the sad news was delivered. I was strolling around club house in University, then my friend told me
"He's been shot".
Although it happened suddenly, I don't know why, but I felt I knew it comes.
・ ・ ・ ・ ・
Somebody has broken the treasure medallion, and no one can take it back.
Whoever it is, the death is solemn, but to me, anger rose faster than sorrow, and I could not face nor shake it. So I left the place to be alone.
The silent sorrow came over later.
December 8 is the special day for Japanese, but even for us who had not experienced the war, the day came to have another meaning.
When 8th/Dec approaches, the memory above comes together every year. As if notifies 25th is coming, "Happy Xmas" flows from somewhere. It makes us smile, but also keeps us being aware of something very important.
His work has been almost completed.
I hear he say "it's your turn".


---

+Vote for Me. Thank You in Advance !
---